---
---
---
---

The Writings of Thoreau
A 4-Volume eBook Series
Compiled & edited by Ron Koster,
with contributions by
Ann M. Woodlief, PhD
and others

Walden and Beyond: An Anthology
A Week on the Concord & Merrimack Rivers
The structure and contents of this website were, in fact, originally based on the 4-volume series of digital books which you will find on this page, along with a variety of happy additions (fonts, wallpapers, etc.) which cannot be effectively made available for presentation and/or download in that "book" format.
This series was truly a labour of love for me, in light of the fact that Henry David Thoreau's life and writings — in particular his famed and acclaimed 1854 book Walden; Or, Life in the Woods — were truly the impetus and inspiration for virtually every path I chose to embark on in life. As such, extraordinary care and painstaking effort has gone into this series of his best works, with each dutifully compared page-by-page, virtually line-by-line with original sources. While nowhere near as definitive or authorative as Princeton University's truly monumental effort, The Writings of Henry D. Thoreau

(which I absolutely recommend as being by far the best print versions available), only naturally copyright restrictions prevent using their materials as sources.
However, other somewhat "authoratative" editions have been published over the years, notably the 20-volume series The Writings of Henry David Thoreau

published by Houghton Mifflin in 1906, along with various other reasonably-accurate editions. If one is striving for perfection, then do stick with the aforementioned Princeton series, but it should be noted that even the very first editions "authorized" by Thoreau himself were chock-full of errors which he would make endless corrections to.
With that said, I did strive for my very best with my own series of his works here — I think it would even be fair to say that they lie somewhere in-between the Houghton Mifflin editions and the Princeton editions — and I'm also profoundly grateful and eternally indebted to my dear friend and Thoreauvian colleague, Ann Woodlief, professor emerita of Virginia Commonwealth University, who lectured on Thoreau and his writings as well as those of his many compatriots within the American Transcendentalism movement, for virtually her entire tenure there, and who was of enormous assistance throughout the development of these ebook editions.

Walden and Beyond:
An Anthology
Thoreau's Walden is surely one of the most preeminent works of American literature, relating his real-life "experiment" of living a life of both simplicity and solitude at his cabin by Walden Pond (near Concord, Massachusetts) for two years, from 1845 to 1847. Filled with practical details of how he went about his time there, the work certainly goes far beyond that as a forum for his philosophical musings on society and culture, his love for nature, classical literature and countless other subjects, and is by many considered to be the "Bible" of what came to be known as the American Transcendentalism movement.
This anthology includes Walden in its entirety, along with selections from his other major books ("complete" versions of which are also available in this same series of ebooks), plus the bulk of his major published essays. In addition to Thoreau's own writings are also included biographical essays about him, analyses and criticisms of his ideas and writings, plus an entire section about the other major authors within the American Transcendentalism movement (i.e. Emerson, Alcott, Channing, et al.), not only for further reading for those interested, but also to help provide greater context and understanding for the time and place in which Thoreau lived.
✾
Please note that this volume is HUGE!
It contains much of what you can find here on this website — in fact, this site was based on the ebook anthology as a starting point, along with a few additions (such as the font and wallpaper downloads, etc.).
Click here to view screenshots!
✾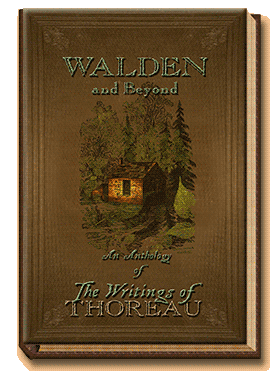 Download
Walden and Beyond: An Anthology
in EPUB format
Version 1.15
Uploaded: 2021–04–28

A Week on the Concord
and Merrimack Rivers
Thoreau's A Week was his first book-length work (published in 1849), prior to his more well-known Walden, and written during his two-year "experiment" in solitude at Walden Pond. The main theme of this book is based on a two-week river excursion that Thoreau took with his brother John in the late summer of 1839, condensed down to a single week, and contains not only a plethora of observations on the various natural phenomena that were encountered during their trip, but a whole variety of musings on philosophy, classical literature, poetry and the "social condition" of his contemporaries.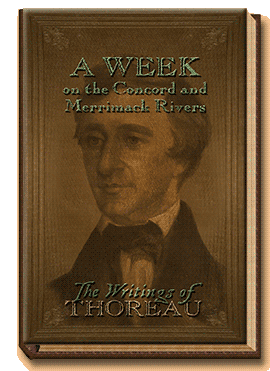 Download
A Week on the Concord and Merrimack Rivers
in EPUB format
Version 1.14
Uploaded: 2021–04–11

The Maine Woods
Published posthumously, The Maine Woods was based on essays which had originally been published during his lifetime in The Union Magazine and The Atlantic Monthly, compiled and edited into this single book-length work after his death by his friend William Ellery Channing. Recounting the three trips he made to the woods and mountains of Maine, readers will find a veritable bounty of information on the nature and wildlife he encountered, the trials and tribulations of his journey by rowboat, along with his observations on the various people he encountered, most notably the Native American friend and guide who accompanied him on these journeys. After his more well-known book Walden, The Maine Woods, is perhaps the most easily-accessible and enjoyable work for most readers.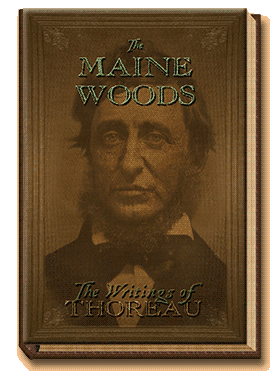 Download
The Maine Woods
in EPUB format
Version 1.14
Uploaded: 2021–04–11

Cape Cod
Also published posthumously, Cape Cod consists of essays which had originally been published during his lifetime in Putnam's Magazine and The Atlantic Monthly, compiled into this single book-length work after his death. Thoreau had made four trips to Cape Cod, and the essays included in this work reflect those, detailing not only the many natural (and human) sights and sounds that he encountered, but also the often-amusing observations he made of the locals he met along the way.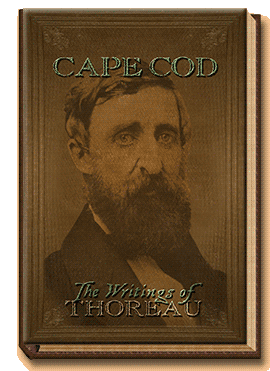 Download
Cape Cod
in EPUB format
Version 1.14
Uploaded: 2021–04–11

---
---
---
---
❦
Questions? Comments? Bug report?
☞ Contact Me! ☜
❦
All original text, graphics and web deisign of this entire site
are copyright © Ron Koster/Psymon, 2021 (except as otherwise noted)
and may not be reproduced or distributed in any manner
without explicit permission.
See: A Note on Copyright.
All Rights Reserved.