---
---
---
---

Amos Bronson Alcott

(1799–1888)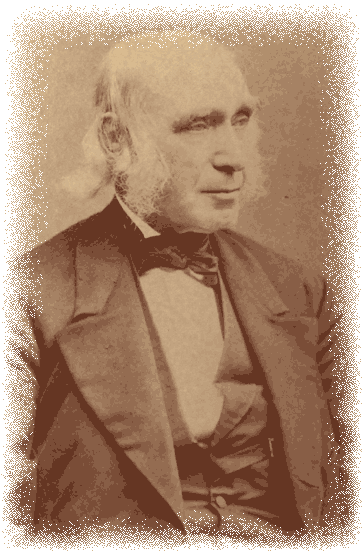 Biographical Sketch
by Amy Belding Brown
Born in 1799 to an illiterate flax farmer in Wolcott, Connecticut, Amos Bronson Alcott was singular among the Transcendentalists in his unassailable optimism and the extent of his self-education. With the encouragement of his spirited and resourceful mother, he taught himself to read and write by forming letters in charcoal on the kitchen floorboards. Profoundly influenced by John Bunyan's book, Pilgrim's Progress, Bronson left home at the age of seventeen to become a peddler in Virginia and the Carolinas. Through the sheer force of his personality, he charmed prosperous Southern families into opening their doors, and thus was introduced to an æsthetic and elegance that inspired him for the rest of his life. After five years, he returned to Connecticut, determined to become an educator. Attracted to Pestalozzi's innovative child-centered educational ideas, he soon began a long and varied career as a teacher.
In 1830, Bronson married Abigail May, the descendent of a prominent Boston family. Abba was a reform-minded woman of remarkable intellect and passionate temperament. Together, they had four daughters and one son who died soon after he was born. His second daughter, Louisa, became a world-famous writer, and his youngest daughter, May, was a critically acclaimed artist.
Bronson Alcott was singular among the Transcendentalists in boldly embodying his ideals. In his schools he introduced art, music, nature study, field trips, and physical education into the curriculum, while banishing corporal punishment. He encouraged children to ask questions and taught through dialogue and example. His daughter, Louisa, wrote of his methods: "My father taught in the wise way which unfolds what lies in the child's nature, as a flower blooms, rather than crammed it, like a Strasbourg goose, with more than it could digest." Because his ideas were radically innovative, many parents did not understand the value of Alcott's methods and his schools often failed. For this reason, the Alcotts moved more than 20 times in the first thirty years of their marriage.
Believing that the key to social reform and spiritual growth lay in the crucible of the family, Alcott instilled the values of self-reliance, self-sacrifice, and charity in his children from an early age. He promoted self-expression by nurturing his daughters' individual talents and encouraging them to keep journals. These journals were shared with other family members to foster openness of thought and feeling.
When Ralph Waldo Emerson met Alcott in Boston in the late 1830's, he was so impressed with his intellect and innovative ideas that he convinced him to move to Concord and join his circle of friends. There, Alcott turned to farming, lecturing, and writing to support his family, but his efforts were limited in their effectiveness. A few years later, with his English Transcendental friend, Charles Lane, Bronson founded the short-lived experimental Utopian community, Fruitlands, in Harvard, Massachusetts. The community's attempt to establish a "consociate family" and pursue an idealistic, agrarian lifestyle which would deprive no animal or human of life, liberty, or property, was sabotaged by ill-considered timing and a lack of established rules and procedures. Following the failure of the Fruitlands endeavor, Alcott sank briefly into the one interlude of despondency in his otherwise confidently optimistic life.
Alcott's ideas were instrumental in forming Emerson's thought as recorded in the transcendental seminal work, Nature. Alcott was an early admirer of Thoreau's reasoned philosophy of civil disobedience, and acted upon those principles several years before Thoreau did. He embraced a more broader conception of truth than his friends, asserting that true genius encompassed intellect, nature, and society.
Alcott was an inveterate talker, and loved leading "Conversations," free-flowing discussions on selected topics. Because his conversations lacked systematic thought or continuity, participants were sometimes disappointed at the lack of direction. Yet Alcott was, typically, undaunted. "All the beauty and advantages of Conversation," he wrote, "is in its bold contrasts, and swift surprises . . . Prose and logic are out of place, where all is flowing, magical, and free."
In his later years, Alcott traveled throughout the Midwest on lecture tours, where he finally achieved recognition for his ideas on education and transcendentalism. During the Civil War, he served as Superintendent of Schools in Concord, and in 1879, thanks to the financial support of his admirers, he was able to achieve a lifelong dream and founded the Concord School of Philosophy. One of the first summer schools for adults, the School of Philosophy continued for nine years and drew people from all over the United States.
Alcott outlived his closest transcendentalist friends, dying on March 4, 1888, two days before his famous daughter, Louisa, succumbed to the long-term effects of mercury poisoning. The Concord School of Philosophy closed in July of that year after holding a memorial service honoring Alcott.

Selected Essays

Biographical sketch copyright © Amy Belding Brown, 2014.
Used with permission from American Transcendentalism Web.
www.transcendentalism.org

---
---
---
---
❦
Questions? Comments? Bug report?
☞ Contact Me! ☜
❦
All original text, graphics and web deisign of this entire site
are copyright © Ron Koster/Psymon, 2021 (except as otherwise noted)
and may not be reproduced or distributed in any manner
without explicit permission.
See: A Note on Copyright.
All Rights Reserved.