---
---
---
---

Margaret Fuller

(1810–1850)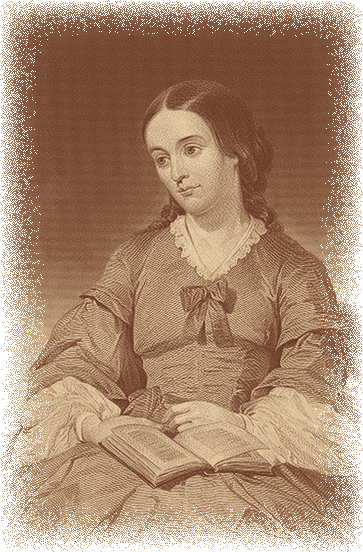 Biographical Sketch
by Ann M. Woodlief
Margaret Fuller was born Sarah Margaret Fuller on May 23, 1810 in Cambridgeport, Massachusetts. She was a very intelligent, even precocious, child who received an intense education from her father, Timothy Fuller, learning Greek and Latin at a very early age. Her father was a prominent lawyer and later a Congressman. She attended several schools and continued to educate herself, learning German and Italian, and would soon do translations of Gœthe and Bettina von Arnim. Her father's death brought financial problems for the family, and she became responsible for the education of her younger siblings. She taught school, especially at Bronson Alcott's Temple School and the Green Street School in Providence, Rhode Island, for two years, but that gave her too little time for her writing.
In 1839 she she established formal conversations on various topics, primarily for women, which were very successful for five years. She was close friends with most of the intellectuals of Boston and Concord, particularly Emerson, and would spend weeks at a time visiting in his home, teaching him German and talking. She was evidently a brilliant and thoughtful conversationalist, much respected for her intellect and learning, although friends often had problems dealing with her mercurial emotions. From 1840 to 1842, she served with Emerson as editor of The Dial, a literary and philosophical journal for which she wrote many articles and reviews on art and literature. In 1843, The Dial published her essay The Great Lawsuit. Man versus Men, Woman versus Women in which she called for women's equality.
In 1844, after an extensive trip west, she published Summer on the Lakes. Charmed by the book, Horace Greeley asked her to join his newspaper, the New York Tribune, as book review editor, and she became quite successful, branching into art and cultural reviews. In 1845 she expanded her Dial essay and published Woman in the Nineteenth Century, which became a classic of feminist thought.
In 1846, as foreign correspondent for the Tribune. Fuller traveled to Europe and sent back articles about letters and art in Europe, meeting many well-known European writers and intellectuals. Once she got to Italy, in 1847, she became involved in the revolution and decided not to return to America for a while. She fell in love with Marchese Giovanni Angelo d'Ossoli, a much younger man of the petty nobility and a fellow revolutionary. They had a child a year later, a son named Angelo, and perhaps married the following year. During the of Revolution of 1848 and during the siege of Rome by the French forces, Fuller assumed charge of one of the hospitals of the city, while her husband took part in the fighting. When the revolution failed, they decided to sail to America, in May 1850, although her friends — who had just learned of her husband(?) and child — wondered how well the "new" Margaret would fit into her old world. She told them she was carrying the manuscript of a book on the Italian revolution, but she left her large collection of letters, especially those with Emerson, with friends in Europe. Her premonitions of disaster proved true; the ship's captain died of smallpox, and his less accomplished replacement ran the ship aground in a storm off of Fire Island, New York, on July 19, 1850. Although in sight of land, she, Ossoli, and Angelo drowned as the ship went down. Her friends sent Thoreau to the wreckage, looking for her manuscript or any other remains, but they were lost to the sea and scavengers.

Selected Essays
The Great Lawsuit. Man versus Men. Woman versus Women.

Biographical sketch copyright © Ann M. Woodlief, 2014.
Used with permission from American Transcendentalism Web.
www.transcendentalism.org

---
---
---
---
❦
Questions? Comments? Bug report?
☞ Contact Me! ☜
❦
All original text, graphics and web deisign of this entire site
are copyright © Ron Koster/Psymon, 2021 (except as otherwise noted)
and may not be reproduced or distributed in any manner
without explicit permission.
See: A Note on Copyright.
All Rights Reserved.