---
---
---
---

Theodore Parker

(1810–1860)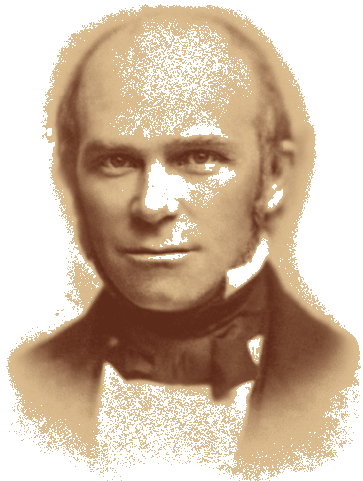 Biographical Sketch
by Ann M. Woodlief
Theodore Parker was an energetic, ambitious man who devoted himself to a life of scholarship, preaching, and social action. Although he remained a minister through his career, he was also perhaps the most theologically and socially active transcendentalist. It was not nature but the nature of man which absorbed his vast energies.
Theodore Parker was born into a large family of a reading farmer, and was an early voracious reader, writing and memorizing poetry. At 17 he taught school for four years, then enrolled at Harvard, finishing his work but not receiving a degree because he had been unable to pay his fees (although he would receive an honorary master's degree later). After a year in Boston, listening to Dr. Lyman Beecher and disagreeing with his Calvinism, he opened his own school in Watertown for two years. There he was introduced to transcendentalist thought through his friend, the Unitarian minister Convers Francis. He married another teacher, Lydia Cabot, and began writing a criticism of the New Testament, hoping someday to become dean of the Harvard Divinity School, which he began attending in 1834.
He was one of the few Divinity School graduates of his time to stay in the ministry, although he was often critical of the Unitarians. He studied languages intensely, aiming to be a first tier scholar, and he edited and contributed to the Scriptural Interpreter, beginning what would be a long series of theological battles. One article, on "How Ought the Bible to be Read," spelled out four necessities: "to read with reason,, "with a consciousness of its antiquity," "with an awareness of the varying authors," and "with a feeling and sympathy for the nature of the work." [1] His first major scholarly project was a translation of Wilhelm M.L. De Wette's Einleitung in Das Alte Testament, written as he preached in small town churches until he was accepted in West Roxbury at the Spring Street Church. He joined the struggle within the Unitarians, trying to move it from its Calvinist roots toward transcendentalism, a battle not won within his relatively short lifetime and one that left him alienated from his fellow ministers and bitter. He would never be an original thinker, but he was an excellent scholar, presenting the ideas of others that he had adopted.
As the other transcendentalists, Parker's writing in The Dial and Brownson's Boston Quarterly Review came directly from other work — his lectures and sermons. A Discourse of Religion was presented first as lectures; as always, he attacked the separation of religion and life, arguing "the principle that religion proceeds from the spiritual wants and needs of man, from his soul which is the religious faculty . . . The religious element is part of man's nature as are the body, the understanding, the affections, and the moral sense; but it is deeper than these." [2]
In 1843, funded by a friend, Parker went to Europe for a year. During this time his interests moved from from theology to social reform. In 1845 he began to preach regularly in Boston to groups at the Melodeon, but his hope of reforming Unitarians as Dr. William Henry Channing had was not successful. He became minister of the very large Twenty-eight Congregational Society, and lecture often — he delivered 98 lectures in the winter of 1855, and he edited the Massachusetts Quarterly Review. He argued strongly against the Mexican War and for abolition of slavery, and was especially interested in problems of poverty and crime, yet he also attacked the flawed ethics and moral responsibility of the merchant class.
In the 1850s, with the passing of the Fugitive Slave Law, Parker turned much of his energy to the cause of abolition, hiding fugitive slaves in his home and being tried for obstructing the return of the kidnapped slave Anthony Burns. His sermons in the final two years of his life were his best, encapsulating 20 years of thinking, writing, and preaching, though his efforts against slavery had led him to a physical breakdown. His lectures on Franklin, Washington, John Adams, and Jefferson, published as Historic Americans, show his devotion to finding the greatness of America. Yet he was also concerned with his own greatness, as he knew he was dying of tuberculosis; he send his congregation a letter from the West Indies called "Theodore Parker's Experience as a Minister." He died in Rome in 1860.

Selected Essays
The Transient and Permanent in Christianity
Biographical sketch copyright © Ann M. Woodlief, 2014.
Used with permission from American Transcendentalism Web.
www.transcendentalism.org

---
---
---
---
❦
Questions? Comments? Bug report?
☞ Contact Me! ☜
❦
All original text, graphics and web deisign of this entire site
are copyright © Ron Koster/Psymon, 2021 (except as otherwise noted)
and may not be reproduced or distributed in any manner
without explicit permission.
See: A Note on Copyright.
All Rights Reserved.